Info below received via our SEC:
The pressure has been on for some time to have the ICS 213 form appear more like the FEMA hard copy. The biggest constraint to doing this was trying to get the HTML code, Java Scripting, and Winlink Express command lines to cooperate. This is why what you saw in previous versions was the best that could be offered, until now.

Thanks to Greg Kruckewitt KG6SJT, our recent addition to Winlink Template group and his Java scripting expertise, we have a new 213.

Up front I have to thank Greg and his countless hours on this project, to include putting up with my never ending changes and questions.
As such when the next Template pack version 46.0 is "pushed" via the internet you will have the new ICS 213 available, version 25.0.
If you have no Internet available at a managed site you may update the forms yourself.
This new ICS 213 is NOT fully backwards compatible. If someone uses the old version to send, the new will at least display the message
information, just many other fields will not propagate.
PLEASE read the instructions that are are part of the Initial Entry form and try a few to understand the REPLY portion changes.
Any and all questions, help needed, suggestions, or platitudes go to KG6SJT@ winlink.org
The New Form:
– We were able to remove the sometimes accidental bringing up the ICS-213_SendReply.txt by error, you no longer see it.
Now you can only click on the ICS213_Initial.txt    (Setting the ICS 213 as a "favorite" template did prevent this).
-Screen shot of the Initial entry form: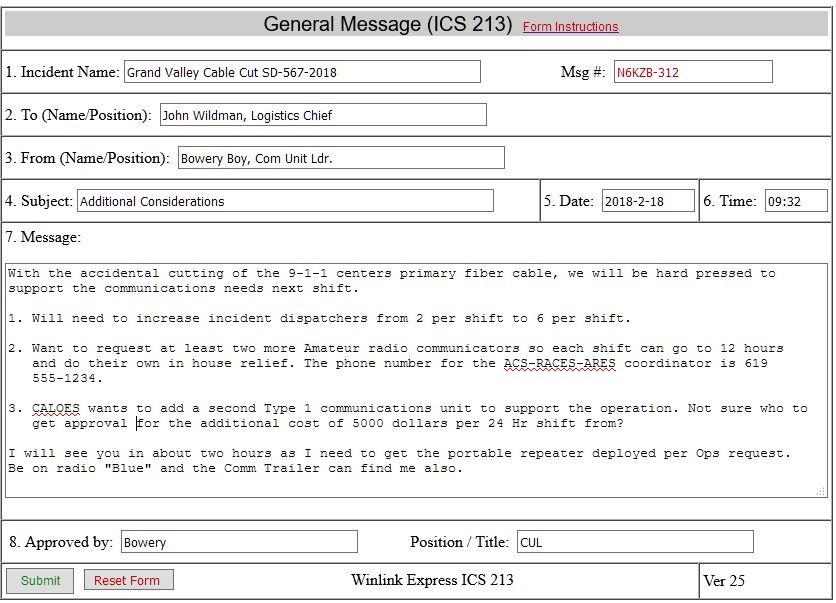 – Screen shot of the Inbound 213.
Note you can not use this form to reply from, read the instructions. But you can print it in order to obtain a written response.
When you print the items marked in YELLOW are removed.

– Screen shot of the final ICS 213 to print or save.

We understand that with chnage comes anxiety. Test and learn this forms process and how to initiate a Reply. Some will not like this new format as it is a departure from the previous two years. But SHARES, served agencies, and others have been asking for this for some time. Is it perfect? Perhaps not, best that can be done at this time.